Andre Jones 
Songwriter, Singer, Lead & Rhythm Guitars, Bass Guitar, Keyboards, Drums and Percussions. 
Andre has performed with many local as well as national top acts and is versed in Fusion, Jazz, Soul, R&B, Old School Rock, Blues and Pop music genres. 
His very first music lessons was at the old Grinnell's building on Woodward downtown Detroit. He later went on to seek private lessons from Tony Pierce who was a guitarist and part of the song writing duo of Stephen Bray and Tony Pierce who at the time was writing music for Madonna and the Jets. He continued his musical education at Henry Ford Community College and University of Michigan both in Dearborn Michigan. 
He began entering the Detroit Jazz world that was headed by Marcus Belgraves and Lyman Woodard. Constantly moving in a lot of musical directions, he performed with Carl Carlton and the musical play Wicked Ways while heading his own bands "The Zebra Back Band" which was a Rock band, "Triple Threat" and the "Well Hung Band" as it's guitarist performing his Original music and Pop/Dance music. He also had a duo band named D2 which consisted of him and his drummer also named Andre (Womack) and was nominated by Metro Times Magazine for Best Duo.  
Realizing that there were times in which there were no keyboardist available for the gigs, he established himself as a guitarist who incorporated both Keyboards and Guitar parts of a song together to provide a more enhanced melodic musical sound. 
While doing a brief stint in the Army (Infantry) he formed a band named Bass Ackwards who won the Fort Ord talent show and opened up for Atlantic Starr, Alexander O'Neil and the legendary Huey Lewis and The News  when they came to perform at Fort Ord. 
Meeting musician Joseph Wooten while in Nashville lead to many musical opportunities as well as meeting the rest of his brothers Victor, Regi, Roy (Future Man), and the late great saxophonist Rudy Wooten. These musicians and many other Nashville musician had a significant impact on his musical skill level, mental and spiritual approach to music and life. 
A great friend Joseph DeRenzo was the gateway to meeting such childhood artist as Pat Methany, John McLaughlin, the members of the Yellow Jackets Russell Ferrante, Jimmy Haslip, and Bob Mintzer and others who musical advice enhanced his musical knowledge. 
He is currently fine tuning a solo act performing guitar and keyboards with backing tracks in the Lansing and Grand Rapids area while still subbing from time to time in old bands that he had performed with like the NYCE Band, Sexy Monster, Metamorphosis, and John Davis, rapper Oplex and The Mad Hatter.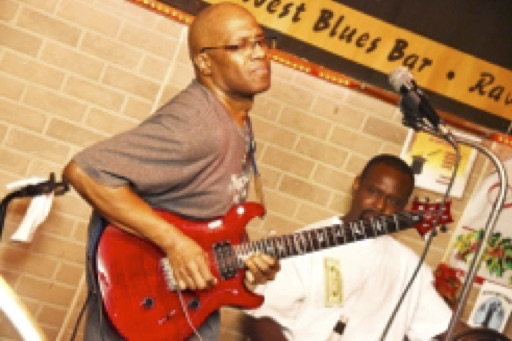 Andre' Jones